Exploring the role of the imagination and the expressive arts in psychological and spiritual change, and in renewing our relationship with the Earth.
"Walk out like someone suddenly born into colour" Rumi (poet)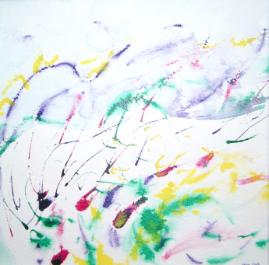 Tai chi with Buddleia, Devon, 2005, acrylic ink on paper.
In my own life, an encounter with a Tai chi master transformed the conventional path I had taken through academic education, professional work and family life, into a more intense, creative and colourful way of being than I had thought possible.
My childhood love of art-making, landscape, the natural world, and life itself, re-emerged as my Taoist (the Way of Nature) spiritual practice grew.
After training in Devon as a Tai chi practitioner and teacher, I went on to obtain the BTEC HNC in Art and Design, and studied for a year at the Institute for Arts in Therapy and Education in London.
My themes have deepened through re-education, reflection and creative companionship with like-minded souls, and through using the arts as a method of inquiry.
In 2011, I completed the MA in Transpersonal Arts and Practice at the University of Chichester, and I am continuing to study the esoteric tradition of alchemy as a model of transformative practice.
I moved to East Devon in 2010, joined Exeter Visual Arts Studios in 2012 for a short while, and now pursue my creative practice from home.